Welcome to NW HOOT
WELCOME to the Pacific Northwest Folklore Society's e-zine the NW HOOT (as in hootenanny). We will announce upcoming events and include articles on folk music, folklore and the traditional music scene in the Pacific Northwest.
April/May, 2015 Vol. 7, No. 4

Crònan / J. W. McClure and Thaddeus Spae

Concerts at the Couth Buzzard featured Crònan on Feb. 13, and J. W. McClure on March 13. Upcoming concerts at the Couth Buzzard will feature Seumas Gagne on Friday, April 10; Claudia Schmidt on Sunday April 19, 7:30 pm; an Acoustic Harmonica Master Showcase  featuring Grant Dermody, Mark Graham, and Orville Johnson co-sponsored by the Couth Buzzard on Friday, April 24; John Elwood and Sally Burkhart on Friday, May 8; and a special concert by Dan Frechette & Laurel Thomsen on Thursday, May 14. On Sunday April 19, 2-3 pm, Hank & Claire will present a free concert at the Everett Public Library; and on May 17, 2-3 pm, Carolyn Cruso will present a free concert at the Everett Public Library. A busy two months with some fine music!. This issue features an article by Stewart Hendrickson: "Songs of the Pacific Northwest;" an announcement of a workshop on Group Singing; and an article on Claudia Schmidt and her upcoming concert at the Couth Buzzard on Sunday, April 19.   The Events page lists some great concerts through the next few months. We are still looking for more writers for the NW HOOT (send us your ideas and articles). Keep tuned and revisit the NW HOOT as new articles, CD reviews, and videos may appear during the next two months. Donations - We manage to carry on with a small budget, but there are needs to support. For example, we just wrote a check to Couth Buzzard in appreciation of the venue they provide and to help defray the cost of their annual ASCAP fee (for live music). We also need to cover the cost of printer ink and paper for concert posters and internet service costs for our websites. Donations of any amount are welcome - for $20 or more we will send you a free Songs of the Pacific Northwest CD. Send a check to Pacific NW Folklore Society, 11720 1st Ave NW, Seattle, WA 98177. Thank you.
ARTICLE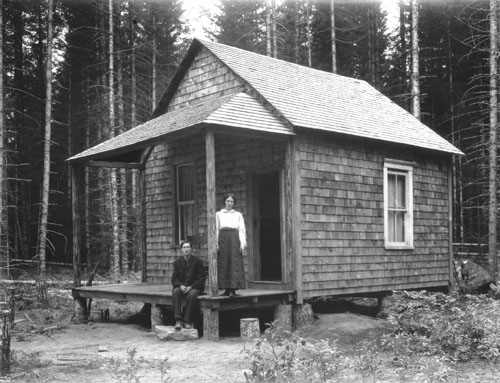 SONGS OF THE PACIFIC NORTHWEST
by Stewart Hendrickson
There is a wealth of songs of the Pacific Northwest (PNW). They tell of our history, labor and leisure, joys and sorrows. Some are old and traditional, others more recent, and some are still being written. The Pacific Northwest Folklore Society has a web page, Pacific Northwest Song, with recordings of regional musicians – including some writers of these songs – singing the songs. More songs are on my CD Songs of the Pacific Northwest.
WORKSHOP

Pacific Northwest Folklore Society
GROUP SINGING WORKSHOP
SING TOGETHER
Stewart Hendrickson

Couth Buzzard Books, 8310 Greenwood Ave N, Seattle
Americans don't sing together anymore. The music industry has convinced us that only professional singers can sing, so don't even try – music is only for listening. Today Whitman would not "hear America singing," he would write, "I see America listening." Bring back America singing. This workshop will explore how we can sing together. What songs are best suited for group singing? How can we find these songs? How is group singing best organized? We will explore ways to learn songs, lead them, and sing together in groups such as song circles and community sings. We will learn how to sing in harmony, with tight rhythm, and develop good vocal practices. Singing brings psychological and physical wellness in terms of happiness and good health, as well as a sense of community and understanding among people of diverse backgrounds and skills. We will sing songs from Hendrickson's songbook Sing Together (66 songs for group singing). This free workshop will be followed by monthly (second Saturdays, noon - 1pm) community sings at the Couth Buzzard beginning in June.
ARTICLE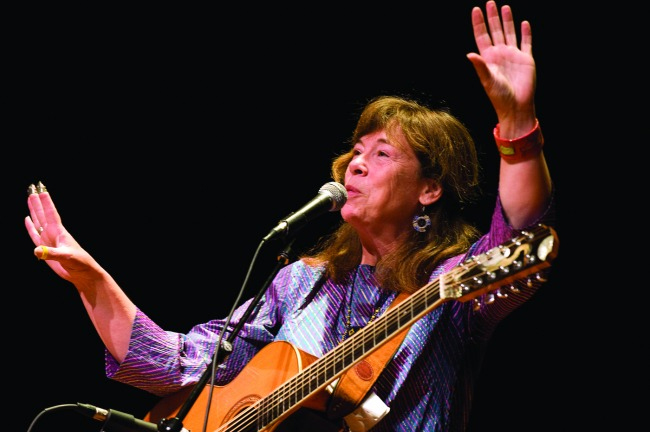 CLAUDIA SCHMIDT
If you listened to the Prairie Home Companion show in the late '70s and early '80s you certainly knew Claudia Schmidt, one of Garrison Keillor's regular performers. She was ubiquitous, a folk, jazz and blues singer, poet, and multi-instrumentalist – she plays guitar, mountain dulcimer, and quirky instruments such as the pianola. A Michigan native, Claudia has toured North America and Europe for over four decades,  recorded over twenty albums of mostly original songs, duo albums with Sally Rogers, and also made a name for herself in musical theater around the Midwest.
FEATURED VIDEO OF THE WEEK
If you can't view this in Internet Explorer, any other browser (Firefox, etc.) should work fine.

Romanian Train Song
Live performance Cambridge, MA by
Notorious
folk - Eden MacAdam-Somer and Larry Unger.