Welcome to NW HOOT
WELCOME to the Pacific Northwest Folklore Society's e-zine the NW HOOT (as in hootenanny). We will announce upcoming events and include articles on folk music, folklore and the traditional music scene in the Pacific Northwest.
June/July, 2014 Vol. 6, No. 5

Piper Stock Hill, Dale Russ & Michael Saunders, Squirrel Butter

The April concert at the Couth Buzzard featured Dale Russ & Michael Saunders, and the May concert featured Piper Stock Hill. The Sunday afternoon free concert at the Everett Public Library featured Squirrel Butter on May 18. Upcoming concerts at the Couth Buzzard will feature Molly Bauckham on June 13, and Salmonfeathers on July 11. This issue features an article by Stewart Hendrickson on Collecting Songs - Part 2; an article by Bob Nelson on Seattle Folksingers: Those Who Led The Way; and a CD Review: Kate MacLeod - At Ken Sanders Rare Books. Let the authors know what you think about their articles - writers love (need) feedback. And of course a new Featured Video of the Week each week (usually beginning on Friday). The Events page lists some great concerts through the next few months. We are still looking for more writers for the NW HOOT (send us your ideas and articles). Keep tuned and revisit the NW HOOT as new articles, CD reviews, and videos may appear during the next two months. Donations - We manage to carry on with a small budget, but there are needs to support. For example, we just wrote a check to Couth Buzzard in appreciation of the venue they provide and to help defray the cost of their annual ASCAP fee (for live music). We also need to cover the cost of printer ink and paper for concert posters and internet service costs for our websites. Donations of any amount are welcome - for $20 or more we will send you a free Songs of the Pacific Northwest CD. Send a check to Pacific NW Folklore Society, 11720 1st Ave NW, Seattle, WA 98177. Thank you.
ARTICLE


COLLECTING SONGS - PART 2
By Stewart Hendrickson

In
Part 1
I talked about how I began collecting songs and later organized them in my
song page
. Here I give some examples of songs I have collected from different and sometimes obscure sources.  For each song I give a link to it on my
song page
, a recording (mp3) of my singing the song, and something about how I found the song. 
ARTICLE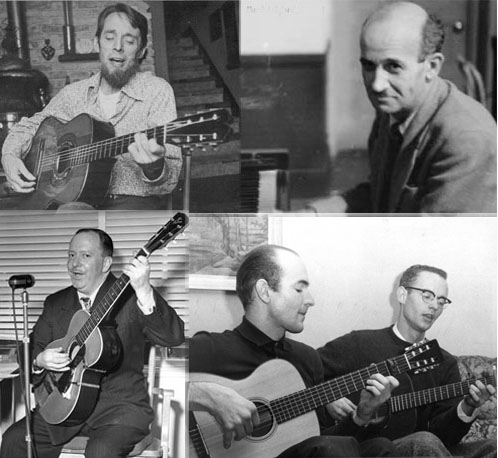 Clockwise from upper left: Walt Robertson,
Paul Ashford, Bob Nelson, Don Firth, Ivar Haglund.
SEATTLE FOLKSINGERS
THOSE WHO LED THE WAY
By Bob Nelson
Washington State has a rich legacy of folksingers. I first became aware these singers and their songs when I was ten years old and met Ivar Haglund. My parents often to took me to his waterfront aquarium located at pier 54 in downtown Seattle. He had a small building, built on the wharf over the water. He started his business on a shoestring and it showed. He used to sit on a stool, just inside the entry door, and collect ten cents from visitors as they entered.
CD REVIEW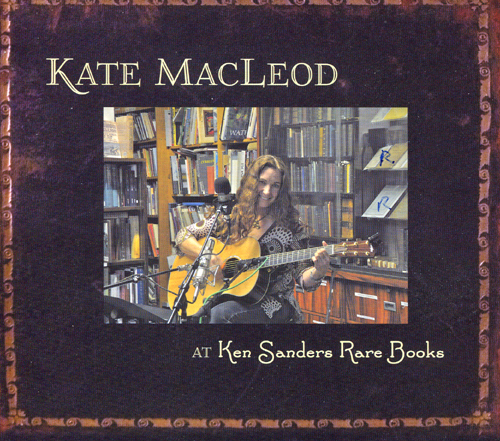 Kate MacLeod
At Ken Sanders Rare Books
a collection of songs inspired by books
Waterbug Records
- 2013
This CD was a long time in the making. It began with the first song written by Kate MacLeod in 1982, and finished with the last song written in 2012, all about books that she had read and treasured. These songs were recorded in a live concert at Ken Sanders Rare Books in Salt Lake City on August 4, 2012. Well, not quite – one was recorded in the studio, but we are not told which and are asked to guess.
FEATURED VIDEO OF THE WEEK
If you can't view this in Internet Explorer, any other browser (Firefox, etc.) should work fine.

The Full English - Man in the Moon
The Full English album is out now and available from: ▶ Amazon:
http://amzn.to/14YdNNy
▶ Propermusic.com:
http://bit.ly/14yvahG
and ▶ iTunes:
http://bit.ly/14EX3Fg
Winner of BEST ALBUM and BEST GROUP at the BBC Radio 2 Folk Awards 2014. A veritable English folk supergroup - Seth Lakeman, Martin Simpson, Fay Hield, Nancy Kerr, Sam Sweeney, Rob Harbron and Ben Nicholls perform new music and arrangements inspired by material Fay Hield has found within the newly-launched EFDSS Full English archive (the world's biggest digital archive of English traditional folk music and dance tunes).
Fay Hield introduces the Full English
.