Welcome to NW HOOT
WELCOME to the Pacific Northwest Folklore Society's e-zine the NW HOOT (as in hootenanny). We will announce upcoming events and include articles on folk music, folklore and the traditional music scene in the Pacific Northwest.
August/September, 2015 Vol. 7, No. 6

Jeanne Towne, Hobbit & Hare, Reggie Miles; Piper Stock Hill

Past concerts at the Couth Buzzard featured a Buskers' Night with Reggie Miles, Jeanne Towne, and Hobbit & Hare on June 12; and Piper Stock Hill on July 10. This issue features articles "Klezmer Music and Seattle" by Bernice Maslan; and "Why Play Music, Anyway?" by Laurie Riley. Upcoming events at the Couth Buzzard will feature a concert by  Northwest traditional fiddler Sarah Comer on Friday, Sept. 11. There will be no August concert. On Saturday, August 8, we have another 2nd Saturday Community Sing at the Couth Buzzard from noon - 1 pm. On Sept. 13 the PNWFS/Everett Public Library Free Concert will feature JW McClure.  The Events page lists some great concerts through the next few months. We are still looking for more writers for the NW HOOT (send us your ideas and articles). Keep tuned and revisit the NW HOOT as new articles, CD reviews, and videos may appear during the next two months. Donations - We manage to carry on with a small budget, but there are needs to support. For example, we just wrote a check to Couth Buzzard in appreciation of the venue they provide and to help defray the cost of their annual ASCAP fee (for live music). We also need to cover the cost of printer ink and paper for concert posters and internet service costs for our websites. Donations of any amount are welcome - for $20 or more we will send you a free Songs of the Pacific Northwest CD. Send a check to Pacific NW Folklore Society, 11720 1st Ave NW, Seattle, WA 98177. Thank you.
Obituary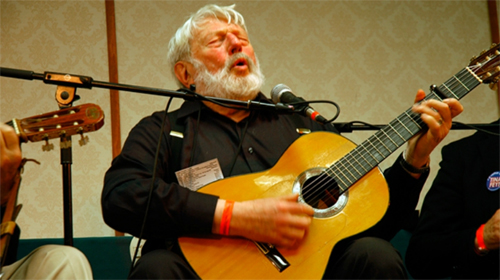 Theodore Bikel, Actor, Musician, Dies at 91
Theodore Bikel died Monday, July 20, 2015, at age 91. He was an actor, folk singer, musician, composer, and activist. Some of Bikel's most notable acting included an early role in the London staging of A Streecar Named Desire, the role as Captain von Trapp in the Broadway production of Sound of Music, and the role of Tevye in Fiddler on the Roof, which he performed more than 2,000 times over more than 40 years. As a musician he recorded many Jewish and theater songs, and published a book of international folk songs, Folksongs and Footnotes: An International Songbook. Bikel was president of the Associated Actors and Artistes of America, and was president of Actors' Equity in the late 1970s and early 1980s. His obituary appeared in the New York Times.

ARTICLE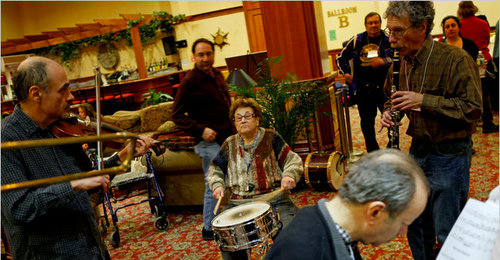 KLEZMER MUSIC AND SEATTLE
  by Bernice Maslan
What is klezmer music? Klezmer music originated in Eastern Europe in the late 1800s. Lovely melodies were played to accompany wedding celebrations; different tunes helped to shape and choreograph the ceremony itself and enliven the festivities (which might last a week or so). The music was founded upon Jewish liturgical (cantorial and congregational song - niggunim); as time went on the tunes became infused with the melodies and rhythms of the local regions (Ukrainian, Moldovan, various Balkan, Turkish, Greek, Russian, etc.).
ARTICLE

WHY PLAY MUSIC, ANYWAY?
by Laurie Riley
Ask any number of musicians why they play music, and you'll get a different answer from each one, ranging from, "My parents made me," to "I can't NOT play music – it's my passion!" Assuming we want to play, what is it that drives us to pursue music? The answers are as diverse as are the people.
MONTHLY EVENT

Pacific Northwest Folklore Society
COMMUNITY SING
Every 2nd Saturday, noon - 1 pm
Couth Buzzard Books, 8310 Greenwood Ave N, Seattle
Come as you are - all ages and skill levels are welcome. We sing mostly the traditional and "old songs." Led by Stewart Hendrickson and other guest musicians using our song book (Sing Together). You may also bring your own song to lead with the group.
CD REVIEW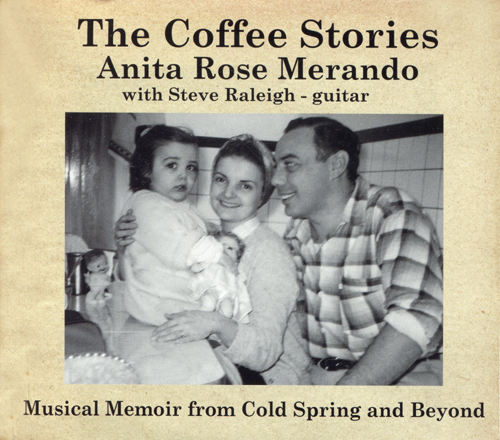 The Coffee Stories: Musical Memoir from Cold Spring and Beyond
Anita Rose Merando
Anita Rose, formerly of Seattle, sent me this wonderful double-CD album that combines her childhood stories of growing up in a strong, close-knit Italian family in upper New York state with her wonderful renditions of jazz standards.
FEATURED VIDEO OF THE WEEK
If you can't view this in Internet Explorer, any other browser (Firefox, etc.) should work fine.

 Piper Stock Hill's "I's the B'y"