Welcome to NW HOOT
WELCOME to the Pacific Northwest Folklore Society's e-zine the NW HOOT (as in hootenanny). We will announce upcoming events and include articles on folk music, folklore and the traditional music scene in the Pacific Northwest.
February/March, 2016 Vol. 8, No. 3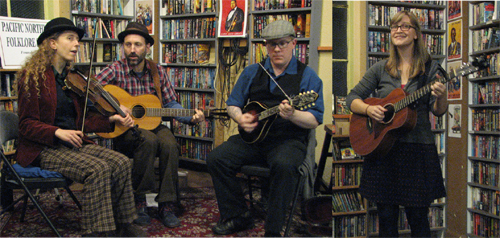 Quickdraw; Avery Hill

Past Concerts: Dec. 11 featured Quickdraw, and Jan. 8 featured Avery Hill. This issue features articles: "The Story of the Montrond Tapes" by Bob Nelson; and "Excellence is Not the Exception" by Laurie Riley; and an obituary for Paddy Graber (1925-2015). Upcoming events at the Couth Buzzard will feature a concert by Pinniped on Friday, Feb. 12, and The Drunken Maidens on Friday, March 11. Every 2nd Saturday at the Couth Buzzard from noon - 1:30 pm, Stew's Folk Music Corner will feature tunes, songs, and community singing.  The Events page lists some great concerts through the next few months. We are still looking for more writers for the NW HOOT (send us your ideas and articles). Keep tuned and revisit the NW HOOT as new articles, CD reviews, and videos may appear during the next two months. Donations - We manage to carry on with a small budget, but there are needs to support. For example, we just wrote a check to Couth Buzzard in appreciation of the venue they provide and to help defray the cost of their annual ASCAP fee (for live music). We also need to cover the cost of printer ink and paper for concert posters and internet service costs for our websites. Donations of any amount are welcome - for $20 or more we will send you a free CD: "Songs of the Pacific Northwest", or "Paddy Graber - The Craic Was Great". Send a check to Pacific NW Folklore Society, 11720 1st Ave NW, Seattle, WA 98177. Thank you.
ARTICLE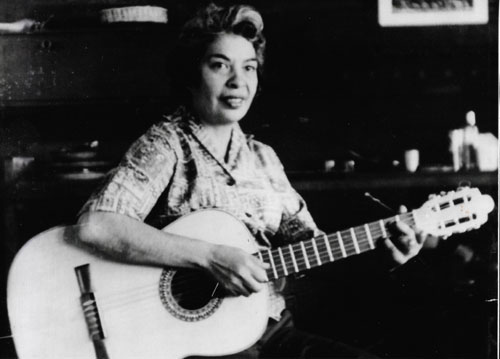 THE STORY OF THE MONTROND TAPES
by Bob Nelson
It was in the Spring of 1959 that the late
Don Firth
and I left Seattle and headed south, seeking our fame and fortune. (our fame was fleeting, as was our fortune). As was the plan, we crashed with "Patti" for a few days until we could get our bearings. Patti McLaughlin, Don Firth and I had been a trio in Seattle and she'd headed south a couple of months before us and had landed well in Sausalito, the San Francisco Bay area. Within a few days of our arrival, Patti introduced us to one of the most remarkable persons I have ever met. Her name was Juanita Montrond. She was 48-years old, and the mother of Lola and Benny.
ARTICLE

EXCELLENCE IS NOT THE EXCEPTION
by Laurie Riley
It's assumed by most people that only a few can achieve excellence. That's why the word exists  –  to excel in something means to do significantly better than the norm. But it's really more complex than that.
Obituary
PADDY GRABER (1925-2015)

Paddy Graber passed away Dec. 26, 2015, age 90, in Vancouver, B.C. Canada. He was born in Co. Tipperary, Ireland on December 18, 1925. From his mother, Eileen (Mead), a well-known traditional singer, he learned a vast repertoire of songs. After serving with the British Army during World War 2, he returned to England and then emigrated to Canada in the 1950s, where he worked in the copper mines and later as an occupational therapist in Vancouver. Paddy was a traditional Irish folk singer and song collector as well as a songwriter and story teller. He performed many years at the Northwest Folklife Festival, and was active with the Seattle Song Circle and the Traditional Folk Song Circle in Vancouver.
Here is an article about him
from the Victory Music Review in 2004,  and a
thread on Mudcat.
EVENTS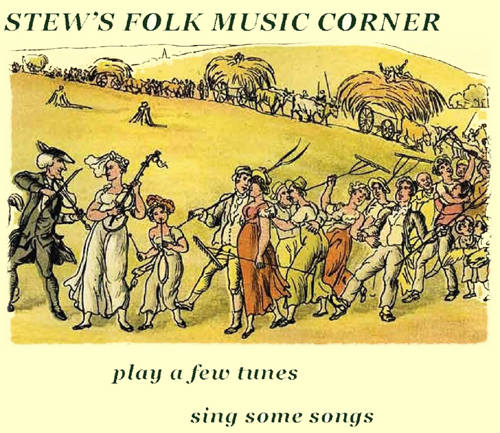 FEATURED VIDEO OF THE WEEK
If you can't view this in Internet Explorer, any other browser (Firefox, etc.) should work fine.

Joan Baez - 1965 - part 1